The Sacred Space is a point of focus for pupils' prayer. It is a centre for reflection and for the children's work.
MAY IS THE MONTH OF MARY
May Altar.
Prayers
Sign of the Cross
In the name of the Father, and of the Son, and of the Holy Spirit.
Amen.
Hail Mary
Hail, Mary, full of grace, the Lord is with thee.
Blessed art thou among women, and blessed is the fruit of thy womb, Jesus.
Holy Mary, Mother of God, pray for us sinners,
now and at the hour of our death.
Amen.
Hymn Mary Our Mother.
———————————————————————————————
Pope Francis Prayer for Protection from Coronavirus.
Pope Francis' Prayer to Mary during the coronavirus pandemic.
O Mary,
you always shine on our path
as a sign of salvation and of hope.
We entrust ourselves to you, Health of the Sick,
who at the cross took part in Jesus' pain, keeping your faith firm.
You, Salvation of the Roman People,
know what we need,
and we are sure you will provide
so that, as in Cana of Galilee,
we may return to joy and to feasting
after this time of trial.
Help us, Mother of Divine Love,
to conform to the will of the Father
and to do as we are told by Jesus,
who has taken upon himself our sufferings
and carried our sorrows
to lead us, through the cross,
to the joy of the resurrection. Amen.
Under your protection, we seek refuge, Holy Mother of God. Do not disdain the entreaties of we who are in trial, but deliver us from every danger, O glorious and blessed Virgin.
—————————————————————————————————————–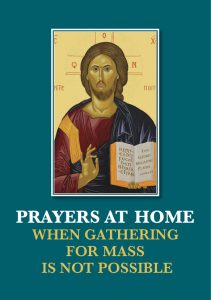 http://www.cloonakillans.com/wp-content/uploads/2020/03/Prayers-At-Home-When-Gathering-for-Mass-is-Not-Possible-Copy.pdf
Prayers at Home When Gathering for Mass is Not Possible
In these extraordinary times when we cannot gather for Mass, we would encourage you to download and print out this prayer booklet for use at home. This prayer booklet has been prepared by the Diocese of Clonfert and the Diocese of Elphin specifically for this time we find ourselves in. We continue to keep each other in prayer during this time. Please remember to take care of yourself, your family and loved ones and follow the advice of the HSE. Click here for the most up to date advice given by the HSE
---
Click on the image of St. Peter and Paul's church to enter our Parish Website.
---
---
St. Peter and Paul's church.